The Green Inferno (Cannibal Holocaust 2, Paradiso Infernale, Yellow Dream) Directed By Antonio Climati, Starring Marco Merlo (1988).
Are you searching for a gentle cannibal film, one where none of the savages fill their bellies with steaming hot entrails and there's no animal deaths which is a good sign in my book. Or perhaps you love Florida and air boat rides, then sit back and enjoy this Antonio Climati romp. Don't get too relaxed though (especially in the sphincter area), because this film features something I've never seen in any jungle adventure exploitation movie--Anal fish!
Right off the get go, we're on the wrong track for a distant relative to an Umberto Lenzi or Deodato nasty because they all must start off in NYC, it's scientifically proven! Then straight after we escape from the urban civilization to the savage world. Inferno starts off in Florida and comes off like an all nerdy episode of Thunder in Paradise (without Hulk Hogan--he called in sick).
Some zippo flicking dude named Korenz is missing in the Amazon as shirtless men who both kinda look like John Stockwell and their frizzy haired buddy ride around town and hijack a miniplane while smooth jazz plays! I'm talking so classy, it sounds like The Bold & The Beautiful is gonna start up any minute now.

An alternate title for this was Cannibal Holocaust 2, I bet some gore hounds out there were pretty upset once they popped this in the VCR and saw that absolutely no animals were harmed (Whew, says I)! Climati is no stranger to the sick world of Mondo and worked as a cinematographer on Goodbye Uncle Tom, Mondo Cane, Africa Addio and This Violent World. Why he decided to do the right thing and spare all the magnificent creatures is anyone's guess, maybe he finally grew a conscience.


They spend so much time on the runway showing you the mechanics of a small plane that it's almost like an instructional video (make sure you jot down some notes)! If I were a 4 year old and liked planes and trucks, I'd be enthralled. Ok, this film is half rewarding, half dull. Don't look now because Gemma a tropical journalist finds a hut where an inbred goon with a head shrinking operation shows her in detail how to get those large skulls extra tiny! This film is so informative, I've already learned so much. Fred the frizzy haired glasses wearing geek reminds me of the science character from Beer Fest played by Steve Lemme.


The three main characters go shopping and hang out in the town square, they are looking for Garcia aka The Piranha. They find him gambling on race frogs, I'm betting Eli Roth is really gonna make his version of this film super exciting, if it ever comes out! The funny thing is, it could actually use a remake, but it's only related by title obviously.
Ahoy Matey, welcome to Eli Roth's Long John Silvers
Fred (Marco Merli, who also co-wrote the script), a horn playing anthropologist is a man of many talents and gives a monkey mouth to mouth! They find a boat and set sail down the muddy river and this is where we see the famous "ass fish scene"!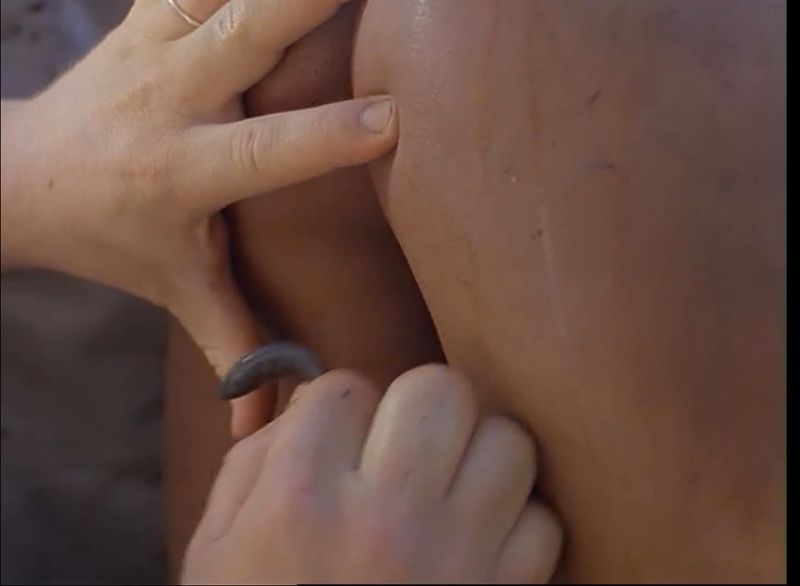 Deleted scene from Stand By Me
There is more male nudity then there really should be as more bowl hair cutted natives drop trou and venture into balmy terrain. It's fascinating to see most of the animals usually slaughtered for no reason at all walking around unharmed (turtles, ant-eaters, cute monkeys), it's almost as if Climati tried to rectify the mistakes other Italian cannibal directors have made with animal cruelty. This film is also unique in that the whites aren't trying to exploit the natives and they actually all get along. They do encounter a waring tribe who starts up shit because they want to eat the monkeys. That tribe is so dumb that they let the white people go because they are so impressed by their tape recorder.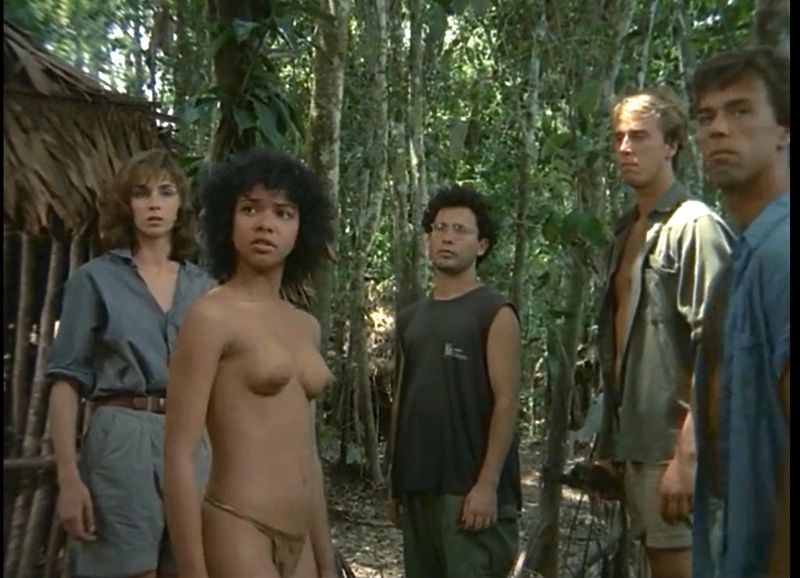 Don't be jealous of Koala's boobs Gemma
A pretty indio named Koala who has light bulb boobs joins up with the crew and they all get along famously (so there's no need for a rape or
Cannibal Holocaust
style impalement). Indiana Jones would be terrified by this film, what with the concept of a "Python Blowjob" as punishment! That aforementioned scene is so odd, a grizzled man with a gun threatens the dudes and they all pull down their pants like they are into it, I'm just so confused by
The Green Inferno
! If it's a cannibal film, it fails miserably, it's too gentle and yet it tries at the same time to be demented and weird while covering it up with more tedium and diversions. It's way out of its element and a strange mix of playing it safe (no one is really hurt at all) in a genre that's all about primitive man, Nativism, dominance and cruelty; it's an odd duck for sure!
FOR CANNIBAL COMPLETISTS ONLY, COULD'VE BEEN RATED PG-13!
MAKE SURE YOU CHECK OUT OUR TRIBUTE TRAILER!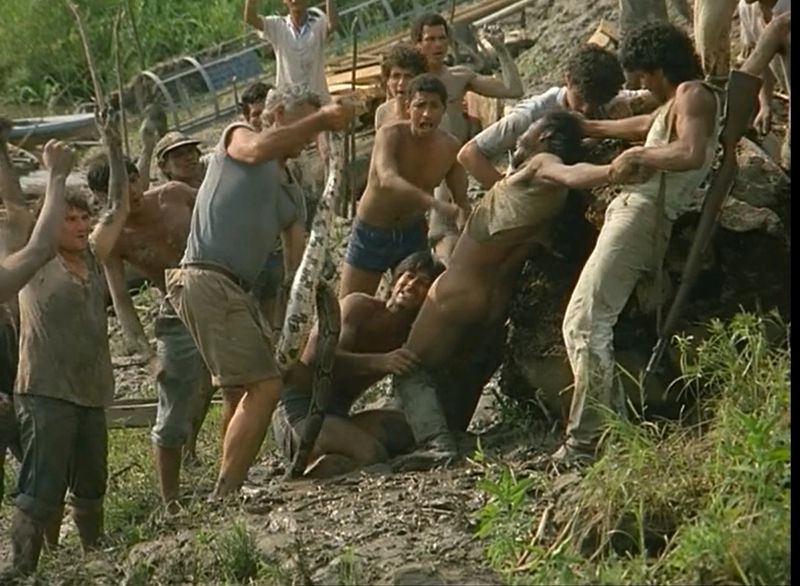 HAHA, I bet you didn't count on my schlong being longer than the python!




Monkeys are so safe in this flick, they take a nap